Главная
Foreign Rights
Doctor X and His Children
Doctor X and His Children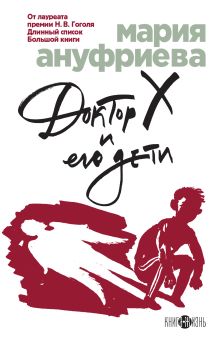 Maria Anufrieva
320 pages;
hardcover;
2020.
This is an incredibly suspenseful reading, filling you with aching sorrow and giving you hope.
Meet Doctor X (Doctor Hristoforov, in Russian his surname starts with a Cyrillic letter «Х») — a sharp and sarcastic misanthrope. Being a baby he nearly died, but was saved by a virtuous surgeon, and when he grew up he took up medicine as a profession. But Doctor X became a doctor not for human bodies, but for human souls. Doctor X is 52, he is the head of psychiatric department for boys, and the work doesn't leave space for anything else in his life, except for his mother slowly drowning in dementia. Sounds traditionally hopeless, but the book is not dark at all. On the contrary — it is lively and heartwarming.
Kids in the psychiatry department are quite the patients: one is going to blast the house and hide the dead bodies, another refuses to be human, the third is nicknamed «Omen» (and it is indeed the right name) and many other. Despite the psychiatric hospital children are still children — they play, dream, dodge, make friends, want to see mother — little patients, whose luck turned its back to them, and whose diagnose is mostly explained by the way they were treated by their parents and caregivers. It is hard to find a way to such kids, but Doctor X can do it.
The reader is not immersed into psychiatric details of treatment, because Doctor X is more a kind and attentive teacher, than a doctor. He carefully selects films and books for his little patients, speaks to them cordially, involves them into funny fights or punishes them the way father would do. In a word, he gives the children what their parents couldn't give or didn't want to give. This particular moment of psychiatric disease origin is thoroughly and particularly described by the author: first the reader sees the patient with Doctor's eyes, then the patient himself tells his story, and after that parents (in most cases mothers) come to Doctor, and the smallest details of patient's story are fished out the conversation.
The novel reads easy, but the language is deep and intense. Despite the serious subject — little patients of psychiatry clinic — the author masterfully exploits humor to lessen the tension degree. Comic moments go through the narration hand in hand with drama and distracted life reflection. Besides the author unexpectedly for the protagonist draws a romantic line and adds a good portion of suspense at the end of the story. Consider: on the New Year's eve «Omen» gets hold of the window handle which can open any window (no burglar bars on the windows) — something is going to happen.
Returning children to life in the mornings, in the evenings Doctor X contemplates of leaving this world — occupational hazard. But even in these tremendously hard moments, speaking so openly about cruel life, the author leaves space for hope and a chance to smile through tears.
Maria Anufrieva imade up her mind on literature as profession early in school after reading Dostoevsky's Podrostok (The Adolescent) at 8. She is a journalist and an authors, whose works were nominated to national awards: The Russian Booker and The Big Book.