Главная
«Эксмо» сегодня - издательство Эксмо
Foreign Rights
The Earring of Artemis
The Earring of Artemis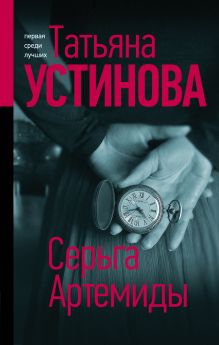 Tatyana Ustinova
Total print-run
of the author's books
25 000 000 copies
320 pages;
hardcover;
2019.
Nastya is seventeen. She is at once quite timid and demanding of herself. A future actress, she has a difficult relationship with her mother and the world around her. Her mother, in her opinion, is no good. Her grandmother, Maria Timofeevna, is a stately and beautiful lady, who for some reason hates Nastya's late father, a genius writer! But why..? What for..? What mysteries are her mother and grandmother hiding? One morning, during Nastya's entrance exam at the theatre school, a terrible thing happens: a young actress and star of many TV series is killed. Nastya and her friend Danya become almost eyewitnesses to murder, and they themselves might be in danger. In fact, the entire family, which consists only of a few women, is in danger! Her life, quite routine and yet comfortable, could be destroyed and fall into pieces that cannot be put together. All three heroines of the story go through their own trials and tribulations: all three discover each other's secrets and get to know each other in a new way. Men reach out to help them — each gets her own hero — and it becomes unclear how they could have survived without each other for so long.
Russian writer-novelist, author of detective stories, screenwriter, translator and TV host, Tatyana Ustinova is truly called the first among the best. 24 detective novels, most of which were filmed under the same names, have been published since 1999. The total circulation of books has already exceeded 25 million copies, and the author herself has been awarded numerous awards. In 2004, she won the Russian National Television Prize TEFI for 'Best Screenwriter of a TV film/Film Series'.